May 13, 2019 at 2:50 PM
#2380
Joe Kemp
Participant
I had a moment where I questioned doing critiques because I dont want to come off as a know-it-all or jerk-face. I genuinely get as much (if not more) out of a thoughtful viewing/critique of others work as I do drawing mine. So take everything I suggest with a grain of salt.
Steel – incredibly intimidating camera angle – as the viewer it really feels like I am caught and there is no way out. His evil grin is very expressive and adds to the sense of dread for the viewer. My only criticism is around his lower body – I think some deeper shadows around his hips would push that area back further making his front leg more prominent and imposing. I like the way you rendered the scaley texture on his arms and how that differs from the more armored texture of his head. Your painting technique has an almost watercolor feel to it which I really enjoy.
Knight – I dabbled with drawing IG88 but I wasnt brave enough to tackle a droid/robot type character because of the control it takes. Good for you for being up to the challenge! I think the strongest part of piece is your composition. Having the character backlit by the setting sun gives it a really cool western feel. That however leads to my critique: if the light source is coming from directly behind the character there would be more shadow in the middle of his front side (and possibly a cool cast shadow) almost creating a silhouette which i think would be very intimidating and create more drama (depending on the intensity of the light of course). The best example I have seen of this is in a piece by adam hughes – the story goes he was creating this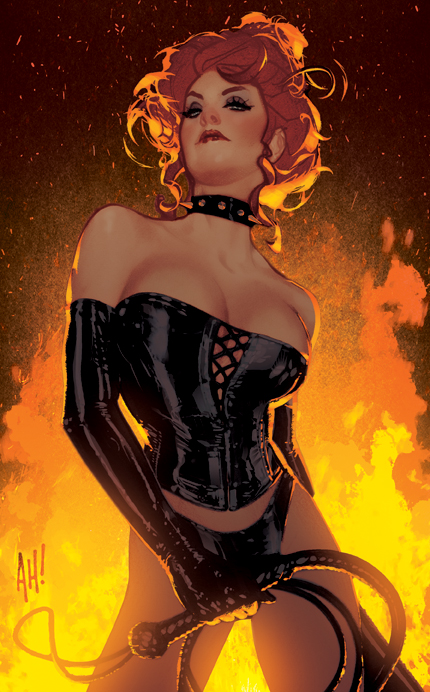 When he accidently turned off a layer in his file and the result was this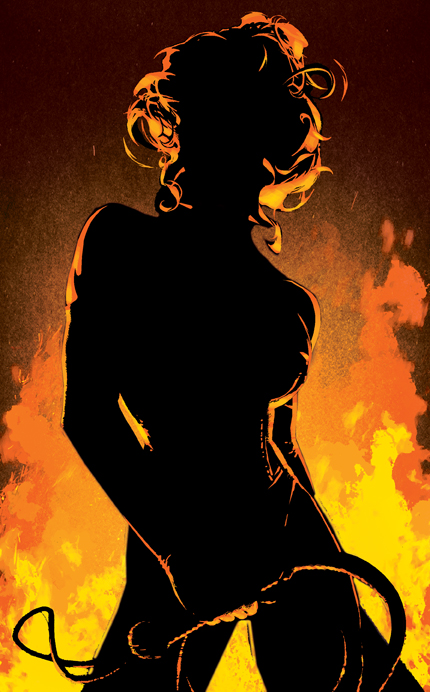 I think the silhouette version is far more dramatic and has more intensity and mystery.
Daniel – The expression on her face is so funny, she looks like she is almost disappointed at the lack of challenge in this particular bounty! The hand on the hip and the smoking blaster do a lot to tell a story with one image. 1) she obviously just shot the blaster because it is still smoking 2) she has her hand on her hip saying that it didn't go exactly as planned 3) she doesn't look happy, angry, or sad – she looks more exasperated. Being able to give that much story with one drawing is truly a skill – very well done! The more I see of your drawings the more i realize it feels a bit like Jamie Hewlett. A fun cartoony style with lots of fun details in things like blasters or accessories. I think it would be fun to see something in the foreground like the targets feet sticking up or a silhouetted hunched form from the corner.
Joe – (self critique) – Although I felt a bit rudderless on this challenge and my weekend was occupied with hockey tournament I am pleased that I was able to come up with something last minute to enter. I really appreciate the direction given by Brett to take a loose approach to the beginning stages of the drawing. I found some reference that I liked and tried to really quickly capture the "feeling" of the pose – not the details of the pose. I have a lot to learn about that but it was good to have that as a focus this week. Overall I am pretty happy with this drawing. It is a lot stiffer in the final version but I think the hair helps to sell the motion a bit.
Brett – This is another very strong drawing – I think it deserves a more thorough review – zooming in on the face gives you a wholly different appreciation for the care put into the details. I especially like the face/head scarf – your ability to create different levels of shadow and texture through different techniques and strategies. This is made even more clear by the detail of the imposing blaster. I also really love the subtle details that give you a sense of place (2 suns). My only critique is there should maybe be more shadow on his right cheek – this would cover part of his cool scar but I think it would sell the roundness of his face and how the scarf casts a bit of shadow
thanks for this – I am really having a good time with these!!!